14 May 2020 | RiverBank Estate
RiverBank Estate Winery and Restaurant re-opens on 20th May with new Executive Chef and exciting Modern Mediterranean food and wine focus.
RiverBank Estate Winery and Restaurant has been a must visit venue of the Swan Valley food and wine scene for many years. Just prior to the current restrictions the Lembo family, owners of RiverBank Estate since 2017, were delighted to announce the appointment of their new Executive Chef, Kiren Mainwaring, who brings a wealth of experience in the Swan Valley and an exciting new Mediterranean and locally sourced produce focus to the restaurant. Owner, Eric Lembo has confirmed that the restaurant will open in line with phase two restrictions on Wednesday 20th May with two sittings per day at 11am and 1.30pm for 20 guests each.
Welsh born Kiren Mainwaring joins RiverBank Estate after recently owning Co-op Dining in East Perth and Dear Friends in the Swan Valley. His reputation and philosophy toward his food is championing small local producers and sourcing the best the region has to offer. His menus have been awarded for their innovation and quality. Combine this focus on produce with access to an on-site dry ager, aging local farmed Western Australian beef for up to 90 days, inhouse cured continental meat cabinets, live fish tanks containing sustainably caught Western Australian yabbies, marron, crayfish and fish, and an in-house smoker, you can be guaranteed the menu will inspire, excite and satisfy.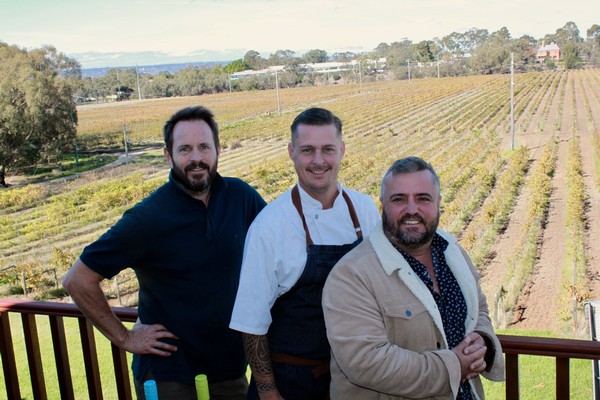 (Image: Digby Leddin, Kiren Mainwaring and Eric Lembo)
"I am very happy to be back in the Swan Valley as it's a region close to my heart. I'm excited to utilize all the fantastic equipment here at Riverbank Estate. The menu will be modern Mediterranean influenced with a focus on bringing family and friends together. Freshness and simplicity with inhouse cured and smoked premium meats, aged beef and Cappretto, and live shellfish. We will have a strong emphasis on food and wine matching. We have some seriously good wines here and with my background in degustation we will have a lot of fun" explains Mainwaring.
It has been an interesting few months for Kiren and the kitchen team at RiverBank Estate. The temporary closure of the restaurant came just weeks after he joined the team, but owner Eric Lembo was determined to keep the kitchen team employed, so diverted them into the vineyard, working under the watchful eye of Senior Winemaker Digby Leddin. Kiren says the opportunity to work in the vineyard has provided him a far greater understanding of the terroir of the estate and respect for the wine produced. "Even getting into the winery and on the bottling line was fun and gave me an appreciation for the work that goes into producing every bottle of wine".
At Riverbank Estate the cellar door, winery and restaurant have taken out many awards over the past few years. These include:
Most Successful Producer plus multiple trophies at the 2019 Singapore Airlines Swan Valley Wine Show
Multiple 94+ pointed wines from James Halliday and Huon Hooke of The Real Review
Winner at the WA Gold Plate Awards for Best Restaurant in a Winery from 2013, 2016, 2017, 2018, 2019 and the Prix d'Amour Hall of Fame for winning three years in a row.
Best Small Cellar Door & Cellar Door Experience in 2019 and 2020 – Gourmet Traveller WINE Magazine
Best Small Producer – Ray Jordan's WA Wine Guide 2019
The winery is led by Senior Winemaker, Digby Leddin who joined in 2017 and has been instrumental in driving the success of the wines since. Leddin has spent 24 years in the Swan Valley of which two decades where at Lamont's Winery. He says "Vintage 2020 caps off three consecutive, exceptional harvests for the Swan Valley. The quality of the fruit and the resultant wines is very exciting for both myself as winemaker and the Lembo family! Covid may have temporarily slowed down sales but for RiverBank Estate the reopening of the restaurant will coincide with the launch of our new release wines, the 2018 red blends amongst the highlights".
Booking can be made in the restaurant by calling (08) 9377 1805.
RIVERBANK ESTATE WINERY AND RESTAURANT:
RiverBank Estate Winery was established in 1988 and has also been operating as a restaurant since 1999. The estate is an award-winning winery with several gold plates and multiple award-winning wines in its portfolio.
The property offers a stunning natural setting on the banks of the Swan complemented by a manicured lawn overlooking the vineyards. The 30-year-old vineyard is comprised of 18 varieties of wine grapes on 30 acres of mature low yielding vines. There is a total of five white varieties : Verdelho, Chenin Blanc, Semillon, Chardonnay and Vermentino , and a total of 12 Red varieties; Tempranillo, Malbec, Grenache, Zinfandel, Sangiovese, Petit Verdot, Cabernet Franc, Cabernet Sauvignon, Shiraz, Pinot Noir, Nero D'Avola and Mataro.
The venue features the main structure which can be transformed from a restaurant setting into a stunning wedding and events location. The lawn area is the designated ceremony location and for good reason; overlooking the vineyards, this ceremony spot has 180-degree, panoramic views towards the Swan River and the historical landmark of Woodbridge House.
For media enquiries contact:
Eric Lembo, Owner, 0419 902 244 eric@riverbankestate.com.au
Toni Carlino, Marketing Manager, 0438 612 365 marketing@riverbankestate.com.au
Comments
Commenting has been turned off.