Public Events
---
August 2021
Italian Street Food
11:30 AM to 4:00 PM
Sun, 22/08/2021 - Fri, 31/12/2021
Venue:
126 Hamersley Rd, Caversham WA 6055
Contact:
RiverBank Estate Winery 9377 1805,
restaurant@riverbankestate.com.au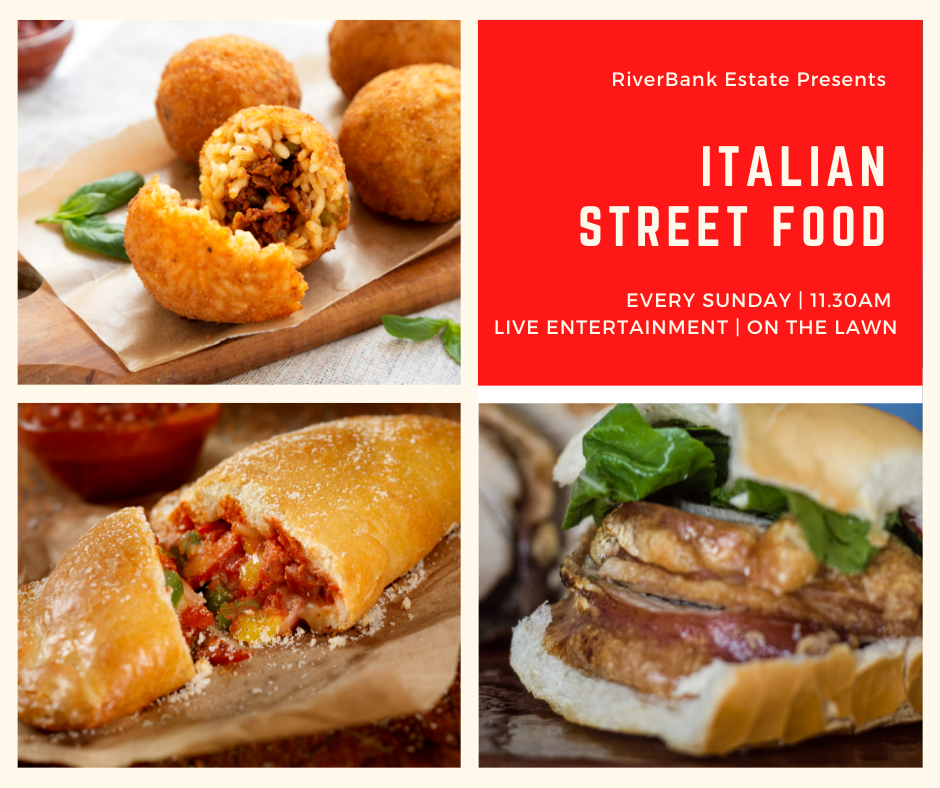 Our Italian Street Food Sundays are back. Mouth-watering Italian food from live cooking stations and award-winning wines, makes the lawn at RiverBank the perfect place to round out your weekend.
Porchetta paninis | Arancini | Polenta with Italian sausage and Pork ribs | Calzone | Eggplant and Zucchini Parmigiana | Italian Gelato Cart | Award-winning wines including Italian favourites of Vermentino, Tempranillo and Prosecco | Live music on the back of our vintage truck | Dog friendly dining area under the vines | Fun garden games for the kids
Bring a blanket or deck chair and relax on the beautiful lawn overlooking our 30-year-old panoramic vineyard. No BYO.
No need to book - just head on over every Sunday from 11.30am
Call (08) 9377 1805 OR Email restaurant@riverbankestate.com.au
September 2021
ART CLASSES IN THE VINEYARD WITH JOANNE COLELY ***NEW DATES***
11:30 AM to 2:30 PM
Sat, 18/09/2021 - Sat, 20/11/2021
Venue:
RiverBank Estate
Contact:
Restaurant Manager 08 9377 1805,
events@riverbankestate.com.au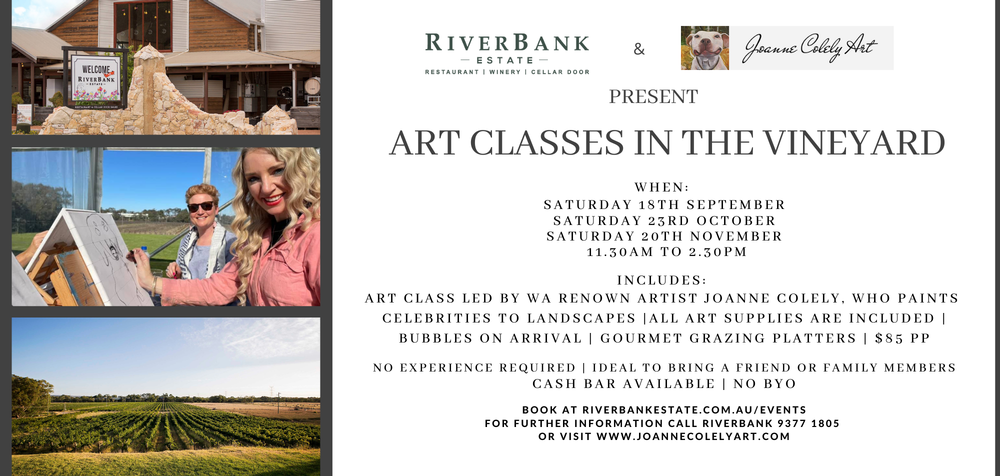 Join the talented Joanne Colely, looking over the vineyards of RiverBank Estate, in a relaxed art class in September, October and November, 2021.
Joanne will teach you to create a beautiful image on canvas to keep precious for ever. All art supplies will be provided by Joanne as your relax under the vines, enjoying a glass of bubbles on arrival and then lunch on gourmet grazing platters.
The perfect way to spend a Saturday afternoon with friends or family. No experience required.
When: 18th September, 23rd October and 20th November, 2021 from 11.30am to 2.30pm
Cost: $85 per person | includes art supplies, bubbles on arrive and gourmet grazing platters
Cash bar available | No BYO
Find out more about Joanne: www.joannecolelyart.com
Or call RiverBank Estate on 08 9377 1805
To book: click here