Wine News
Stay up to date with all the latest news, tips and events that are happening around RiverBank Estate!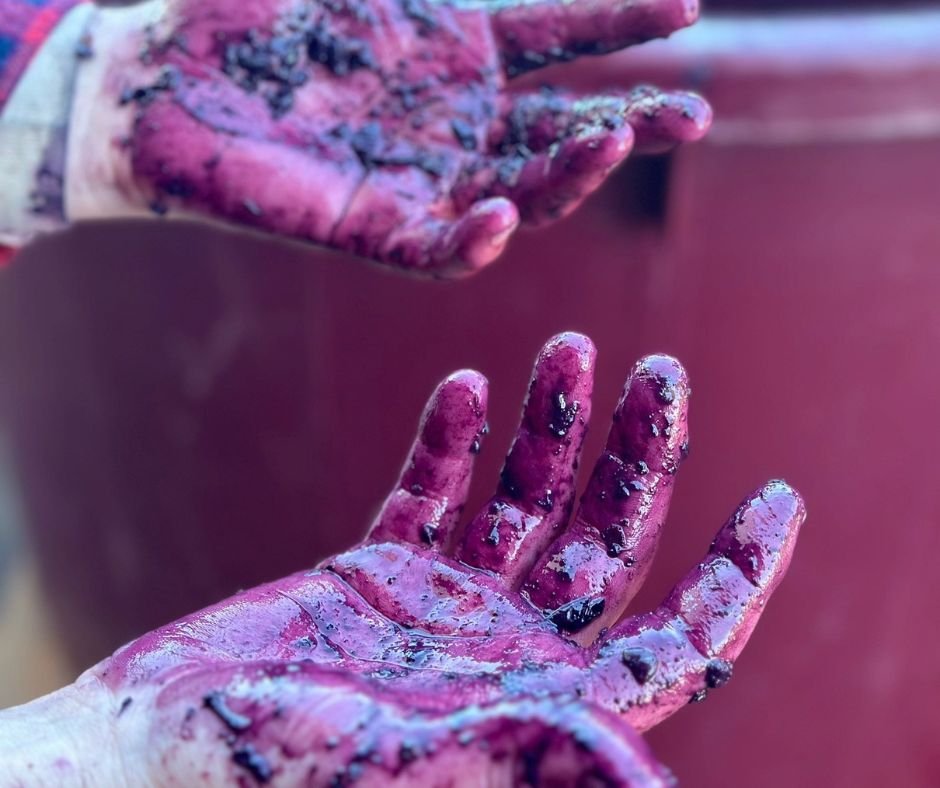 As we bring the curtains down on the 2023 winemaking vintage at Riverbank Estate, we are excited to report that it has been an exceptional year for wine production. Our vineyard has produced some of its finest grapes, resulting in exquisite wines that we cannot wait for you to experience.
Our old vine Grenache has stood out as the star of this year's vintage. The warm weather during the growing season allowed the grapes to ripen perfectly, producing an intense flavor and complexity that is sure to impress. The wine boasts a bright red ruby color, with aromas of black cherry, raspberry, and spice. On the palate, it has a full-bodied, velvety texture with a long finish. It is a wine that will undoubtedly leave you yearning for more.
But that's not all. We have also incorporated alternative varieties into our winemaking process, and they have not disappointed. Our Italian Nero D'Avola is a standout, with its deep, inky color and notes of blackberry, plum, and tobacco. It has a rich and bold flavor that will leave you captivated.
Our Vermentino is also a revelation, with its crisp acidity and flavors of citrus and green apple. It is a refreshing and light wine, perfect for a summer evening or paired with live seafood in our restaurant.
Last but not least, our Tempranillo has produced a wine with lifted red berry aromatics from the carbonic maceration. After some time in premium oak, it will be smooth and elegant, with a finish that makes it the perfect accompaniment to red meat dishes.
In conclusion, the 2023 winemaking vintage has been an incredible year for us, and we are thrilled to share the fruits of our labor with you. Our old vine Grenache and alternative varieties Nero D'Avola, Vermentino, and Tempranillo have all exceeded our expectations, producing wines that we know you will love. We cannot wait for you to try them and experience the best of what the 2023 vintage has to offer.
General Manager/Senior Winemaker, Colby Quirk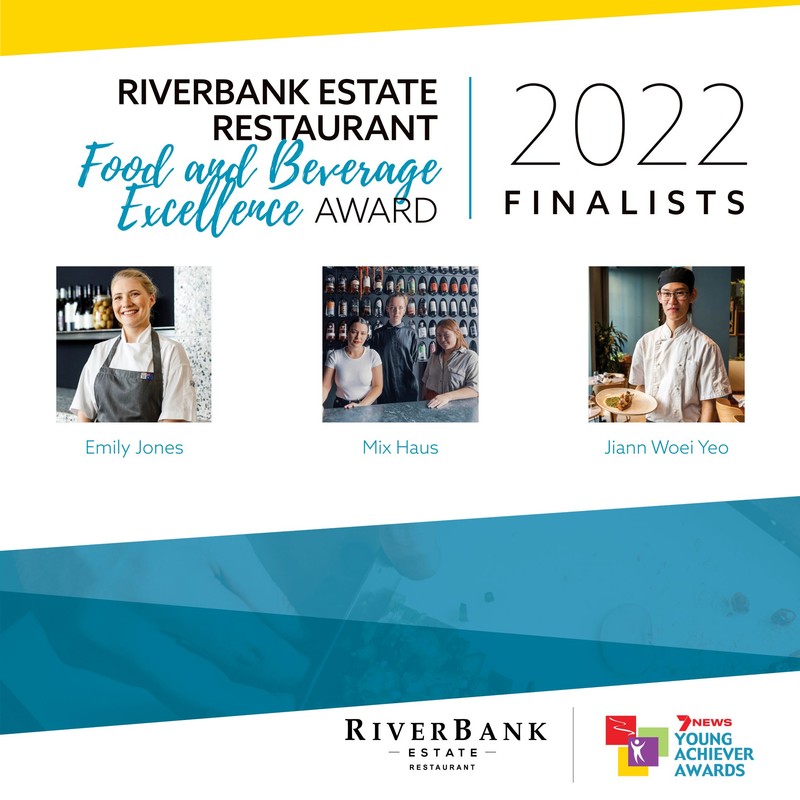 The Finalists have been selected for the Riverbank Estate Restaurant Food and Beverage Excellence Award in the 7NEWS 2022 Young Achiever Awards. The Awards aim to encourage, acknowledge and reward the achievements and valuable contribution young individuals make in their local communities.
The Finalists are:
Emily Jones, Republic of Fremantle, 27 of Orelia

Mix Haus, 29 of Perth

Jiann Woei Yeo, Balthazar, 23 of Perth
Emily Jones, 27 of Orelia is the Head Chef at Republic of Fremantle. She has developed an eclectic menu of small share plates and Aperitivo-style snacks to complement their signature cocktail list. Emily previously worked at a three-Michelin star restaurant in Norway but returned due to the pandemic. In 2021, Emily was awarded Young Chef of the Year at the 2021 WA Good Food Guide Awards…
Mix Haus, 29 of Perth is a not-for-profit organisation that supports womxn in hospitality, with a mission to create an inclusive and safe platform. In their first twelve months, they have launched a fundraising event on International Women's Day and raised over $15,000. They have hosted events that placed womxn in the spotlight, including guest panel sharing their experiences, wine scholarships, wine training events and more…v
Jiann Woei Yeo, 23 of Perth is a chef de partie at Balthazar. He moves into all areas of the kitchen and can lead and direct junior staff. Jiann likes to analyse aspects of his section's prep and evolves processes to make them easier to delegate to junior team members. By delegating, inspiring and leading his junior team members, Jiann is able to instil the fundamentals in them…
Riverbank Estate is proud of its heritage of producing quality wine and delivering outstanding food through its Restaurant and catering. Restaurant Food and Beverage Excellence Award is seeking nominations from young people committed to providing Western Australia with food, shelter and produce. It may be a chef, cook, sommelier, restaurant manager, dietician, farmer, viticulturalist or someone in Primary Industries dedicated to providing outstanding Food and Beverages or producing quality local produce. The Riverbank Estate Restaurant Food and Beverage Excellence Award will recognise our young people who have a passion to deliver quality food, drink and produce.
The Finalists will be presented and Winners announced at an Awards Gala Presentation Dinner to be held at Pan Pacific Perth on Friday evening 27th May 2022. Great prizes are up for grabs with each category winner receiving over $3,000 in prizes, plus a trophy.
One of the nine category winners will be chosen as the 2022 Western Australian Young Achiever of the Year and will receive al state trophy.
All Finalists will go into the Catholic Education Western Australia People's Choice Award, which is run through our Facebook page; "7NEWS Young Achiever Awards WA". Please ensure you like our page and vote for your favourite Finalist. The winner will be announced at the Awards Gala Presentation Dinner and will receive a $500 Visa gift card, courtesy of Catholic Education Western Australia.
Community members including friends and colleagues of each Finalist are invited to share this special occasion. Tickets are $150.00 each which includes a three-course meal, beverages and entertainment. Tickets can be easily purchased online by visiting www.youngachieverawards.com, clicking WA, then clicking on the "purchase tickets" icon.
For further information about our other Finalists or purchasing tickets please feel free to contact the Awards Office on 9201 1155.
Congratulations and good luck to all Finalists.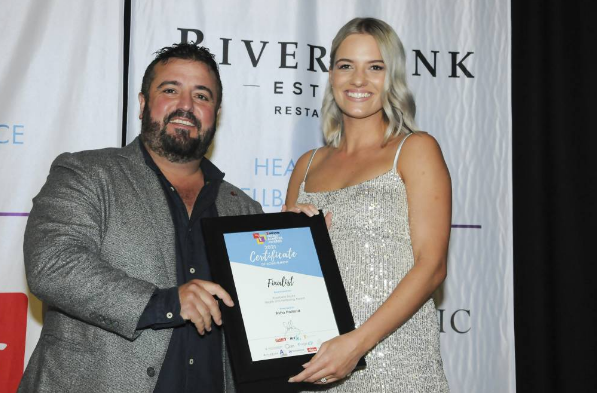 Mandurah's Asha Holland recognised at 7NEWS Young Achiever Awards - sponsored by RiverBank Estate - Mandurah Mail 08 06 21 - Claire Sadler
Asha Holland has been recognised for leading the charge in a body and self confidence movement for girls not just in the Peel region, but across Australia.
At just 24-years-old she made it as a finalist in the RiverBank Estate Restaurant Health and Wellbeing Awardat the 7NEWS Young Achiever Awards.
Ms Holland founded Alternatively Healthy to convey the message that what we see on the outside tells us absolutely nothing about how "healthy" someone is.
Through workshops she combines her knowledge of the female body with her own personal experience when she suffered from an eating disorder, body dysmorphia and extreme perfectionism in her teens.
With hundreds of nominations, Ms Holland was selected as finalist in the award from a strong field of young achievers.
In an Instagram post, she said the award wasn't about her but about every single person that is a part of the Alternatively Healthy community.
"It's about every single one of the girls who has been brave enough to share her story, who has gained more confidence than she knew possible, who now looks in the mirror and says 'thank you body', instead of putting it down, who now feels more worthy than she did before," Ms Holland said.
"This award is for the girls who come to our events alone, nervous and anxious. The girls who share their insecurities, despite being scared.
"This award is for the teachers, parents, coaches and leaders who believe in our message and our mission and know that giving their girls the gift of self-love is the greatest thing they'll ever do.
"While this journey started as just me, it's now so much more than that. It's a community. And it's because of every single person in it, that we're able to change as many lives as we are."
Over 350 guests gathered from across the state to celebrate WA's young achievers.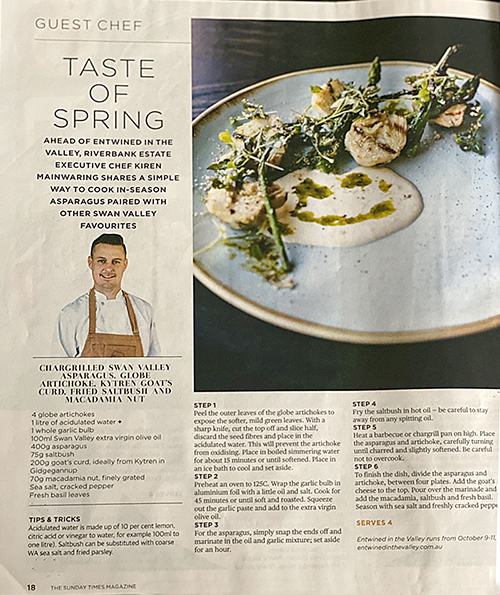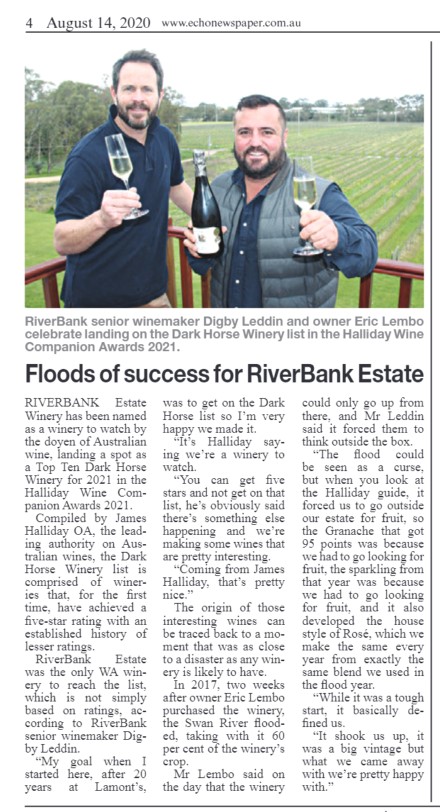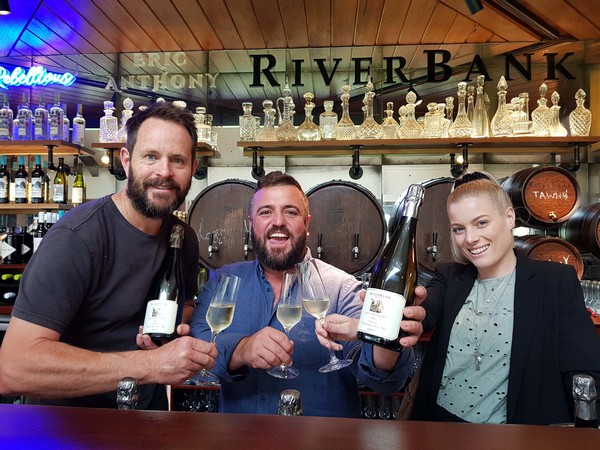 RiverBank Estate Winery's Senior Winemaker Digby Leddin, Director Eric Lembo, and Restaurant Manager Ellie Lucy celebrate another distinguished award for their Eric Anthony Chardonnay Pinot Noir 2017.
The 2019 Singapore Airlines Swan Valley Wine Show awards night, held on 8 November 2019, saw family owned and operated RiverBank Estate Winery win a staggering three trophies:
• Trophy for Best Sparkling Wine for Eric Anthony Chardonnay Pinot Noir 2017
• Trophy for Best Non-Greater Perth Zone Wine for Eric Anthony Chardonnay 2018
• The Media Award Trophy: Most Successful Producer (highest accumulated points overall) with 3 gold, 5 silver, 11 bronze, and a total of 41 points
• Also achieved the Award for Best Rosé of Show for Rebellious Rosé 2019
Other accolades achieved on the night include second-best Rosé for On The Run Sweet Rosé 2019, and gold medal for Rebellious Tempranillo 2018.
RiverBank Estate Winery's Senior Winemaker, Digby Leddin, said the extraordinary accomplishment is testament to the small business' hard work and dedication.
"Winning the Most Successful Producer at the Singapore Airlines Swan Valley Wine Show was an exceptional result given we are just three Vintages into our RiverBank adventure. I am very proud of the wine we produce and am humbled that the judges, wine media and our customers are enjoying them too! Wine shows can be a great leveller, where a guy in a shed can take on some of the best resourced wineries in the state and win!" said Mr. Leddin.
The property was purchased by the Lembo family on 14 January 2017, and within less than three-years, has amassed over 100 awards for its On The Run, Rebellious and Eric Anthony labels. The venue was also named "Small Producer of the Year" by leading wine writer Ray Jordan in The West Australian's 2019 Wine Guide, and "Best Small Cellar Door in the Swan Valley 2019" by Peter Forrestal in Gourmet Traveller.
The restaurant has also experienced an abundance of success this year. With four Gold Plate awards already in its portfolio – won in 2013, 2016, 2017 and 2018 – in 2019, the property will be inducted into the Prix D'Honneur Hall of Fame.
Eric Lembo, RiverBank Estate Winery's Director, said it was an immensely rewarding experience to work alongside the team in turning the business around in such a short period of time.
"2017 was a tough year for us when we purchased the property, but with determination and persistence, we were able to produce not only some of the best wines in Western Australia, but some of the best cuisines as well. I am very proud of our team," said Mr. Lembo.
With 2019 coming to an end, the team at RiverBank Estate Winery have big plans and expectations for the new decade to come, with 2020 already seeing the official release of their premium Best Barrels Blend Bossman 2017.
"Bossman is a blend of the best parcels of red from the vintage. The soon to be released Bossman 2017 is blended from Donnybrook Malbec and Shiraz," said Mr. Leddin.
More on RiverBank Estate Winery:
• Wine Club with exclusive member specials and rewards
• Live tanks of sustainable land-based seafood including Kojonup yabbies, Great Southern marron, Murray River cod and • Western Australian crayfish
• Ageing cabinets with 30-45 day old Western Australian beef
• Italian street food with live music every Sunday from 11AM to 2:30PM
For media enquiries, please contact Eric Lembo on 9377 1805 or eric@riverbankestate.com.au.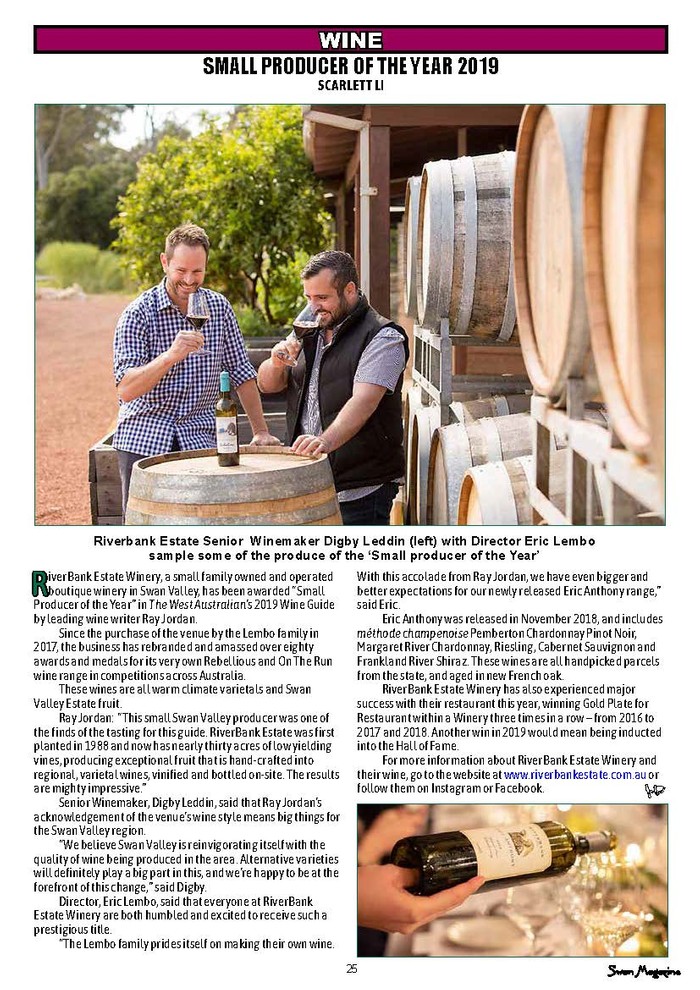 Click here to read the full April edition of the Swan Magazine.