Eric Anthony Liqueur Shiraz NV
Eric Anthony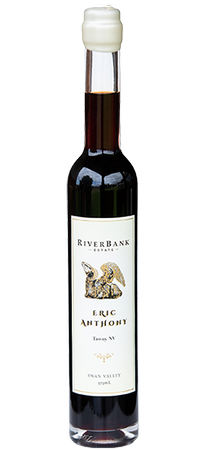 The ram with wings represents strength, determination and risk to take flight into new beginnings.
A deep caramel colour with a reddish hue. A heady mix of spice, cedar wood, toffee and liquorice lead to a palate of sarsaparilla, vanilla and kola nut, finishing with bitter chocolate. Aged in old Hungarian oak hogsheads (300lt barrels).
RiverBank Estate was first planted on the fertile banks of the Swan River in 1988 and has grown to encompass nearly thirty acres of mature, low yielding vines, producing exceptional fruit that is lovely handcrafted into premium, regional, varietal wines, vinified and bottled on-site.
Product Reviews