15 November 2019 | RiverBank Estate
Triple Trophy Win for RiverBank Estate Winery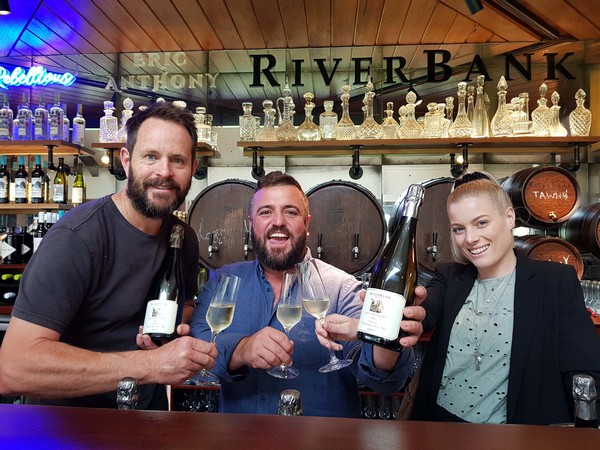 RiverBank Estate Winery's Senior Winemaker Digby Leddin, Director Eric Lembo, and Restaurant Manager Ellie Lucy celebrate another distinguished award for their Eric Anthony Chardonnay Pinot Noir 2017.
The 2019 Singapore Airlines Swan Valley Wine Show awards night, held on 8 November 2019, saw family owned and operated RiverBank Estate Winery win a staggering three trophies:
• Trophy for Best Sparkling Wine for Eric Anthony Chardonnay Pinot Noir 2017
• Trophy for Best Non-Greater Perth Zone Wine for Eric Anthony Chardonnay 2018
• The Media Award Trophy: Most Successful Producer (highest accumulated points overall) with 3 gold, 5 silver, 11 bronze, and a total of 41 points
• Also achieved the Award for Best Rosé of Show for Rebellious Rosé 2019
Other accolades achieved on the night include second-best Rosé for On The Run Sweet Rosé 2019, and gold medal for Rebellious Tempranillo 2018.
RiverBank Estate Winery's Senior Winemaker, Digby Leddin, said the extraordinary accomplishment is testament to the small business' hard work and dedication.
"Winning the Most Successful Producer at the Singapore Airlines Swan Valley Wine Show was an exceptional result given we are just three Vintages into our RiverBank adventure. I am very proud of the wine we produce and am humbled that the judges, wine media and our customers are enjoying them too! Wine shows can be a great leveller, where a guy in a shed can take on some of the best resourced wineries in the state and win!" said Mr. Leddin.
The property was purchased by the Lembo family on 14 January 2017, and within less than three-years, has amassed over 100 awards for its On The Run, Rebellious and Eric Anthony labels. The venue was also named "Small Producer of the Year" by leading wine writer Ray Jordan in The West Australian's 2019 Wine Guide, and "Best Small Cellar Door in the Swan Valley 2019" by Peter Forrestal in Gourmet Traveller.
The restaurant has also experienced an abundance of success this year. With four Gold Plate awards already in its portfolio – won in 2013, 2016, 2017 and 2018 – in 2019, the property will be inducted into the Prix D'Honneur Hall of Fame.
Eric Lembo, RiverBank Estate Winery's Director, said it was an immensely rewarding experience to work alongside the team in turning the business around in such a short period of time.
"2017 was a tough year for us when we purchased the property, but with determination and persistence, we were able to produce not only some of the best wines in Western Australia, but some of the best cuisines as well. I am very proud of our team," said Mr. Lembo.
With 2019 coming to an end, the team at RiverBank Estate Winery have big plans and expectations for the new decade to come, with 2020 already seeing the official release of their premium Best Barrels Blend Bossman 2017.
"Bossman is a blend of the best parcels of red from the vintage. The soon to be released Bossman 2017 is blended from Donnybrook Malbec and Shiraz," said Mr. Leddin.
More on RiverBank Estate Winery:
• Wine Club with exclusive member specials and rewards
• Live tanks of sustainable land-based seafood including Kojonup yabbies, Great Southern marron, Murray River cod and • Western Australian crayfish
• Ageing cabinets with 30-45 day old Western Australian beef
• Italian street food with live music every Sunday from 11AM to 2:30PM
For media enquiries, please contact Eric Lembo on 9377 1805 or eric@riverbankestate.com.au.
Comments
Commenting has been turned off.