Wine News
Stay up to date with all the latest news, tips and events that are happening around RiverBank Estate!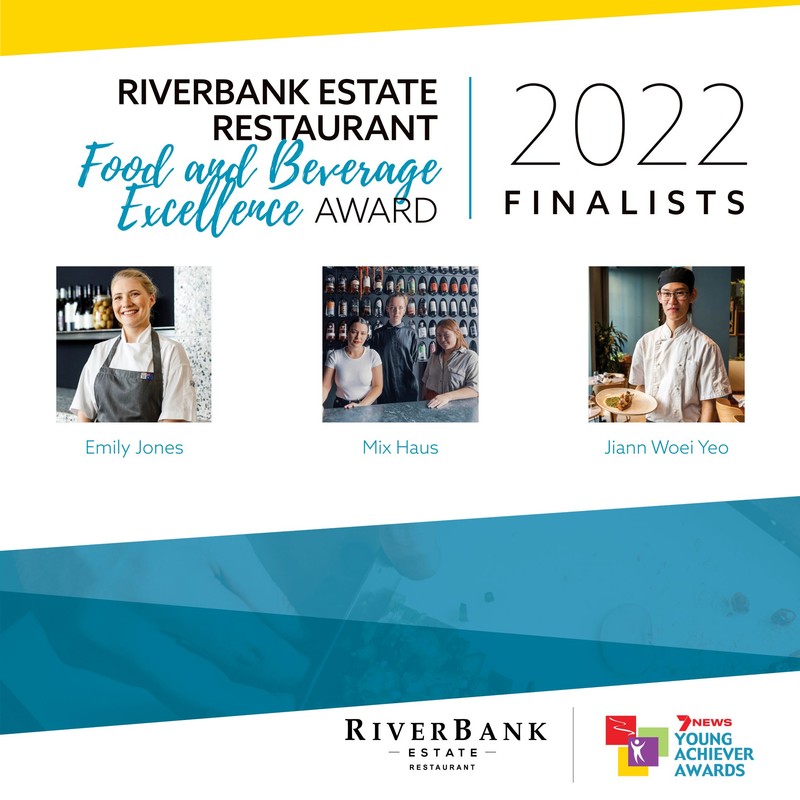 The Finalists have been selected for the Riverbank Estate Restaurant Food and Beverage Excellence Award in the 7NEWS 2022 Young Achiever Awards. The Awards aim to encourage, acknowledge and reward the achievements and valuable contribution young individuals make in their local communities.
The Finalists are:
Emily Jones, Republic of Fremantle, 27 of Orelia

Mix Haus, 29 of Perth

Jiann Woei Yeo, Balthazar, 23 of Perth
Emily Jones, 27 of Orelia is the Head Chef at Republic of Fremantle. She has developed an eclectic menu of small share plates and Aperitivo-style snacks to complement their signature cocktail list. Emily previously worked at a three-Michelin star restaurant in Norway but returned due to the pandemic. In 2021, Emily was awarded Young Chef of the Year at the 2021 WA Good Food Guide Awards…
Mix Haus, 29 of Perth is a not-for-profit organisation that supports womxn in hospitality, with a mission to create an inclusive and safe platform. In their first twelve months, they have launched a fundraising event on International Women's Day and raised over $15,000. They have hosted events that placed womxn in the spotlight, including guest panel sharing their experiences, wine scholarships, wine training events and more…v
Jiann Woei Yeo, 23 of Perth is a chef de partie at Balthazar. He moves into all areas of the kitchen and can lead and direct junior staff. Jiann likes to analyse aspects of his section's prep and evolves processes to make them easier to delegate to junior team members. By delegating, inspiring and leading his junior team members, Jiann is able to instil the fundamentals in them…
Riverbank Estate is proud of its heritage of producing quality wine and delivering outstanding food through its Restaurant and catering. Restaurant Food and Beverage Excellence Award is seeking nominations from young people committed to providing Western Australia with food, shelter and produce. It may be a chef, cook, sommelier, restaurant manager, dietician, farmer, viticulturalist or someone in Primary Industries dedicated to providing outstanding Food and Beverages or producing quality local produce. The Riverbank Estate Restaurant Food and Beverage Excellence Award will recognise our young people who have a passion to deliver quality food, drink and produce.
The Finalists will be presented and Winners announced at an Awards Gala Presentation Dinner to be held at Pan Pacific Perth on Friday evening 27th May 2022. Great prizes are up for grabs with each category winner receiving over $3,000 in prizes, plus a trophy.
One of the nine category winners will be chosen as the 2022 Western Australian Young Achiever of the Year and will receive al state trophy.
All Finalists will go into the Catholic Education Western Australia People's Choice Award, which is run through our Facebook page; "7NEWS Young Achiever Awards WA". Please ensure you like our page and vote for your favourite Finalist. The winner will be announced at the Awards Gala Presentation Dinner and will receive a $500 Visa gift card, courtesy of Catholic Education Western Australia.
Community members including friends and colleagues of each Finalist are invited to share this special occasion. Tickets are $150.00 each which includes a three-course meal, beverages and entertainment. Tickets can be easily purchased online by visiting www.youngachieverawards.com, clicking WA, then clicking on the "purchase tickets" icon.
For further information about our other Finalists or purchasing tickets please feel free to contact the Awards Office on 9201 1155.
Congratulations and good luck to all Finalists.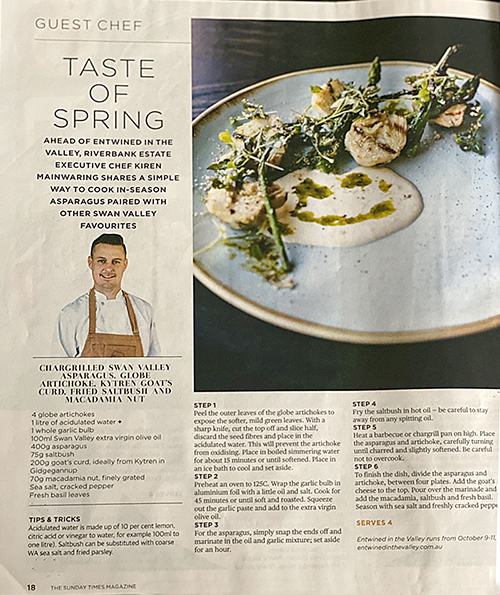 Published on June 6, 2018 in the Joondalup Weekender, Wanneroo Weekender and North Coast Weekender.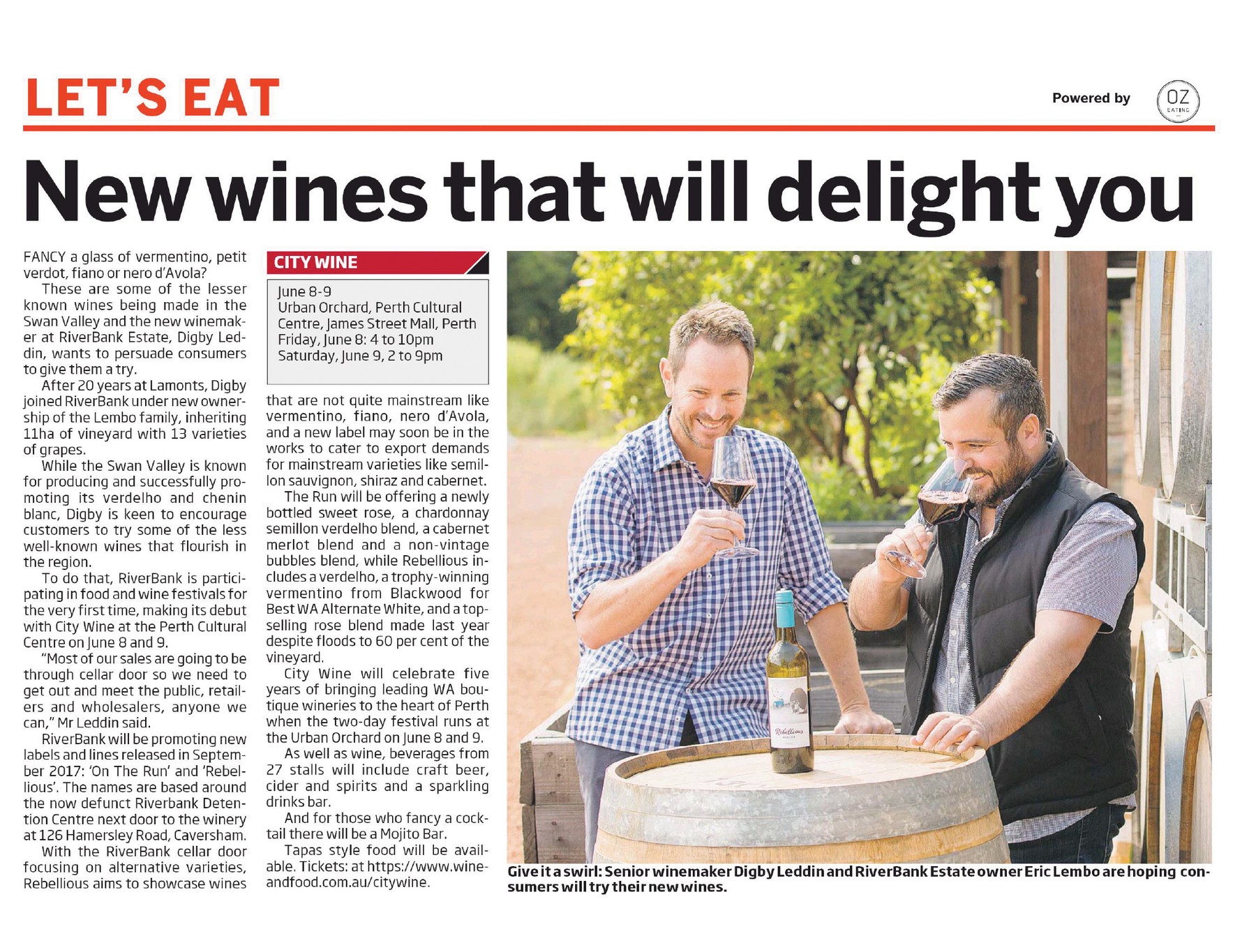 FANCY a glass of vermentino, petit verdot, fiano or nero d'Avola?
These are some of the lesser known wines being made in the Swan Valley and the new winemak­er at RiverBank Estate, Digby Led­din, wants to persuade consumers to give them a try.
After 20 years at Laments, Digby joined RiverBank under new owner­ship of the Lembo family, inheriting llha of vineyard with 13 varieties of grapes.
While the Swan Valley is known for producing and successfully pro­moting its verdelho and chenin blanc, Digby is keen to encourage customers to try some of the less well-known wines that flourish in the region.
To do that, RiverBank is partici­pating in food and wine festivals for the very first time, making its debut with City Wine at the Perth Cultural Centre on June 8 and 9.
"Most of our sales are going to be through cellar door so we need to get out and meet the public, retail­ers and wholesalers, anyone we can," Mr Leddin said.
RiverBank will be promoting new labels and lines released in Septem­ber 2017: 'On The Run' and 'Rebel­lious'. The names are based around the now defunct Riverbank Deten­tion Centre next door to the winery at 126 Hamersley Road, Caversham.
With the RiverBank cellar door focusing on alternative varieties, Rebellious aims to showcase wines that are not quite mainstream like vermentino, fiano, nero d'Avola, and a new label may soon be in the works to cater to export demands for mainstream varieties like semil­lon sauvignon, shiraz and cabernet. The Run will be offering a newly bottled sweet rose, a chardonnay semillon verdelho blend, a cabernet
merlot blend and a non-vintage bubbles blend, while Rebellious in­cludes a verdelho, a trophy-winning vermentino from Blackwood for Best WA Alternate White, and a top­selling rose blend made last year despite floods to 60 per cent of the vineyard.
City Wine will celebrate five years of bringing leading WA bou­tique wineries to the heart of Perth when the two-day festival runs at the Urban Orchard on June 8 and 9.
As well as wine, beverages from 27 stalls will include craft beer, cider and spirits and a sparkling drinks bar.
And for those who fancy a cock­tail there will be a Mojito Bar. Tapas style food will be avail­able.