10 June 2021 | RiverBank Estate
Mandurah's Asha Holland recognised at 7NEWS Young Achiever Awards - for the RiverBank Estate Health and Wellbeing Award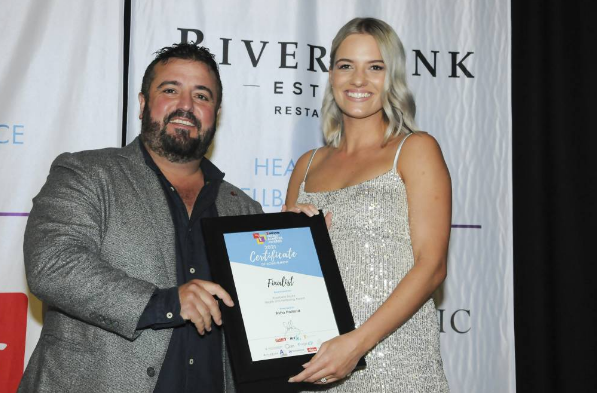 Mandurah's Asha Holland recognised at 7NEWS Young Achiever Awards - sponsored by RiverBank Estate - Mandurah Mail 08 06 21 - Claire Sadler
Asha Holland has been recognised for leading the charge in a body and self confidence movement for girls not just in the Peel region, but across Australia.
At just 24-years-old she made it as a finalist in the RiverBank Estate Restaurant Health and Wellbeing Awardat the 7NEWS Young Achiever Awards.
Ms Holland founded Alternatively Healthy to convey the message that what we see on the outside tells us absolutely nothing about how "healthy" someone is.
Through workshops she combines her knowledge of the female body with her own personal experience when she suffered from an eating disorder, body dysmorphia and extreme perfectionism in her teens.
With hundreds of nominations, Ms Holland was selected as finalist in the award from a strong field of young achievers.
In an Instagram post, she said the award wasn't about her but about every single person that is a part of the Alternatively Healthy community.
"It's about every single one of the girls who has been brave enough to share her story, who has gained more confidence than she knew possible, who now looks in the mirror and says 'thank you body', instead of putting it down, who now feels more worthy than she did before," Ms Holland said.
"This award is for the girls who come to our events alone, nervous and anxious. The girls who share their insecurities, despite being scared.
"This award is for the teachers, parents, coaches and leaders who believe in our message and our mission and know that giving their girls the gift of self-love is the greatest thing they'll ever do.
"While this journey started as just me, it's now so much more than that. It's a community. And it's because of every single person in it, that we're able to change as many lives as we are."
Over 350 guests gathered from across the state to celebrate WA's young achievers.
Comments
Commenting has been turned off.